Wall Anchors
Is your basement showing worrying signs, such as wall cracks or bowing? Far from simple cosmetic eyesores, these signs can indicate deeper foundation issues that should never be ignored. At Foundation Repair of Western Colorado, we offer an effective, lasting solution: our wall anchor system. These anchors provide solid stability to your foundation walls, preventing further degradation and offering the chance to restore walls to their original position.
What Are Wall Anchors?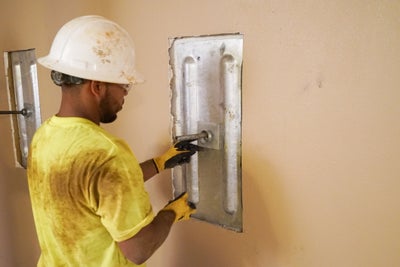 Wall anchors are steel plates that are secured deep into the ground outside your foundation walls. Our wall anchor system comprises:
Inner wall plates attached to your basement walls
Steel rods linking the wall plates to earth anchors embedded in stable soil
The system leverages the strength of stable soil far from your home, providing reinforcement exactly where your walls need it the most. Over time, tightening the system can even straighten bowing walls.
Signs You Need Wall Anchors
Look out for these red flags that your home might require wall anchors:
Basement Wall Cracks: Visible cracks in a horizontal pattern or stair-step cracks at corners.
Bowing Walls: Walls that seem to bow inward, suggesting structural weakness.
Water Intrusion: Moisture or water seeping through cracks, which can lead to mold growth and damage.
Unpleasant Smell: Musty odors indicating moisture and potential mold growth.
Is a Wall Anchor System Necessary?
Yes, in most cases, a wall anchor system is not only necessary, but also a more time- and cost-effective solution than a complete foundation overhaul. Ignoring foundation problems can lead to severe structural issues, compromising your home's safety. Wall anchors are vital for stabilizing weakened foundation walls and should be integrated into any serious repair plan.
Benefits of Foundation Repair of Western Colorado Wall Anchors
Choosing Foundation Repair of Western Colorado wall anchors offer the following benefits:
Halted wall movement and potential reversal of bowing
Stress distributed to stable soil, reducing pressure on your foundation
Cost-effective alternative to full foundation replacement
Transferable lifetime warranty
How We Install Wall Anchors
Foundation Repair of Western Colorado's certified installation includes:
Excavation near the affected foundation walls
Drilling guide holes into stable soil
Securing steel brackets to the inner walls
Driving anchor rods and attaching them to the brackets
Backfilling and then fine-tuning the system over time
Why Our Wall Anchor Solution Is the Best Choice for Your Home
Foundation Repair of Western Colorado provides tailored solutions to fit your unique foundation needs, including optional annual maintenance plans and flexible financing options. In addition to our wall anchor systems, we offer comprehensive solutions such as improved drainage systems and crawl space encapsulation to holistically address your foundation issues. Contact Foundation Repair of Western Colorado today for a free inspection and to learn more about the numerous benefits of our wall anchor systems.
Why Choose Foundation Repair of Western Colorado's Wall Anchors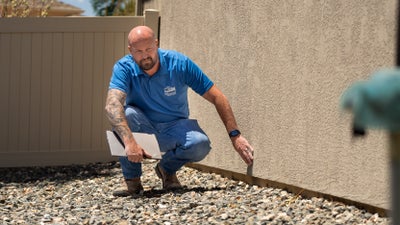 Foundation Repair of Western Colorado offers custom solutions, optional maintenance plans, and flexible financing. Our lifetime guarantee can even be transferred to future homeowners. We also offer additional solutions like drainage systems for comprehensive foundation repair.
Schedule a free inspection and learn how wall anchors can stabilize your compromised foundation. Reinforce your home's foundation today and stop damage in its tracks with FRWC's wall anchors!
FAQs
The time it takes to install wall anchors varies based on the severity of the foundation issues and the size of the affected area. However, a typical installation usually takes between one to three days. Our team will provide you with a more specific timeframe after assessing your foundation's condition during the initial inspection.
We understand that your outdoor space is important to you. Our installation process is designed to minimize any damage to your landscaping. Our team takes special care to dig only the necessary pits for the anchors, and we will work to restore your garden to its previous condition once the installation is complete.
Our wall anchor system is highly versatile and can be used on a variety of foundation wall types, including both poured concrete and concrete block walls. During the free inspection, our experts will evaluate your specific foundation issues and recommend the most effective solution tailored to your home's needs.
Publish Date:
Last Modified Date: