IntelliBrace™ Wall Repair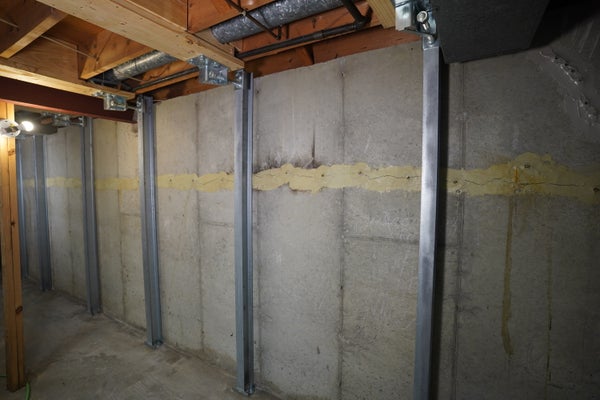 Basement walls are supposed to protect your home, but what if they start to fracture or bend inward? These issues could become a serious risk to your property and loved ones, but there is a way to fix this.
Foundation Repair of Western Colorado's IntelliBrace™ wall repair solution is a modern, effective approach at basement repair. Taking preventive action is crucial to maintaining your home's structural integrity—and we want to help you do it.
Let's dive deeper into how IntelliBrace™ works.
What Is IntelliBrace™?
Foundation Repair of Western Colorado's IntelliBrace™ is a modern basement repair solution designed to stabilize basement walls damaged by fractures, bowing, or shifting.  
Unlike most standard steel I-beams, IntelliBrace™ beams attach to both the ceiling and floor of your basement, allowing it to deliver unparalleled stability.
Our system not only prevents further wall shifting but also offers the possibility for gradual wall straightening. The IntelliBrace™ Solution can be incrementally tightened to steer bowing walls back to a more stable, upright stance.
Issues Fixed by IntelliBrace™
If you notice your basement walls manifesting symptoms of structural damage, the IntelliBrace™ method could be your answer. Indicators to watch for are:
Cracks along the basement walls.  
Floor cracks caused by exterior stress. 
Balls bowing inward due to pressure
Increasing separation between walls and the floor or ceiling.
Is Foundation Repair of Western Colorado's IntelliBrace™ Wall Restoration Solution Needed?
Absolutely. Delaying wall repair in your basement allows the damage to escalate and raises the cost of future repairs.
Installing IntelliBrace™ sooner rather than later is beneficial for your entire home. This wall repair system is also an integral element of our basement repair approach (including wall anchors and carbon fiber reinforcement) depending on your basement's specific needs and dimensions.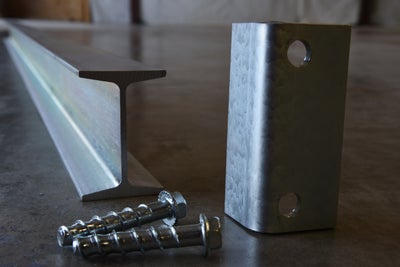 Advantages of Foundation Repair of Western Colorado's IntelliBrace™ Wall Restoration Solution
Minimal Disruption: IntelliBrace™ is installed inside your basement, negating the need for outdoor excavation.
Superior Wall Stability: IntelliBrace™ beams provide enhanced steadiness compared to regular I-beams, securely supporting your basement walls.
Gradual Wall Realignment: Beyond mere stabilization, the system allows homeowners to readjust their walls progressively, recovering structural integrity.
Exceptional Quality: Our engineering methods are industry-leading, offering you the most professional built repair options compared to generic, retail solutions.
Helps With Moisture Control: Since IntelliBrace™ helps close wall gaps, it stops water from leaking inside and causing issues like mold growth. 
Installing Foundation Repair of Western Colorado's IntelliBrace™ Wall Restoration Solution
1. Comprehensive Assessment
Initially, one of our experts will conduct a thorough inspection to determine if IntelliBrace™ is the suitable solution for you. During the inspection, they'll outline any issues in your basement, take precise measurements, and mark the anchor points for the beams.
2. Beam Sizing
Before starting the installation, our team will tailor each beam to match the specific height of your basement walls. Our cutting-edge beams and additional elements are made from sturdy, corrosion-resistant steel.
3. Secure to Floor Beams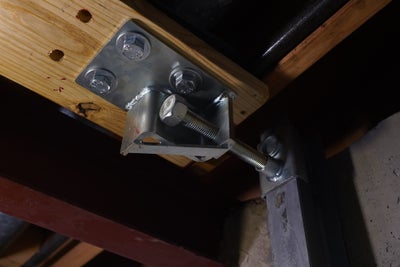 The upper portion of each brace is tightly anchored to a nearby floor beam on the basement's ceiling. A large, adjustable bolt ensures it stays connected.
Our specialists will assess your floor beams' sturdiness before proposing this solution, guaranteeing an impeccable fit and function.
4. Align Each Beam
Proper vertical alignment of each beam is necessary for the IntelliBrace™ system to operate effectively. Prior to proceeding, the team will adjust the positioning of each beam with a leveling tool.
5. Anchor Beams to the Ground
Finally, all beams are fastened to your basement's concrete ground via a specialized anchor bracket. In comparison to traditional methods, IntelliBrace™ spans the full height of the walls, making it perfect for correcting walls that are bowing or leaning.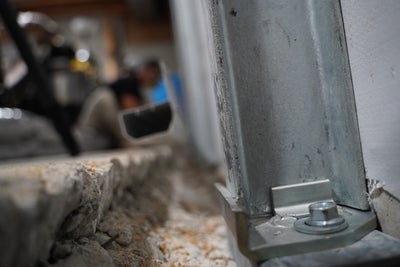 6. Bolt Tightening
A unique feature of IntelliBrace™ is its adjustable bolt affixed to the floor beam.
This bolt can be gradually tightened to slowly rectify wall orientation. Regular maintenance is ideally performed by our specialized crew on an annual schedule.
While the installation may seem complex, you can depend on Foundation Repair of Western Colorado for a secure, flawless, and prompt setup. With almost 30 years of service, we know how to make it stress-free for homeowners.
Why Foundation Repair of Western Colorado's IntelliBrace™ Wall Restoration Solution Is Ideal for Your Residence
Modern Design: A step beyond traditional I-beams.
Durable Solution: Crafted for enduring efficiency and sturdiness.
Yearly Maintenance Plan: Optional plan that guarantees lasting effectiveness.
Consult Foundation Repair of Western Colorado for Trusted Local Wall Restoration!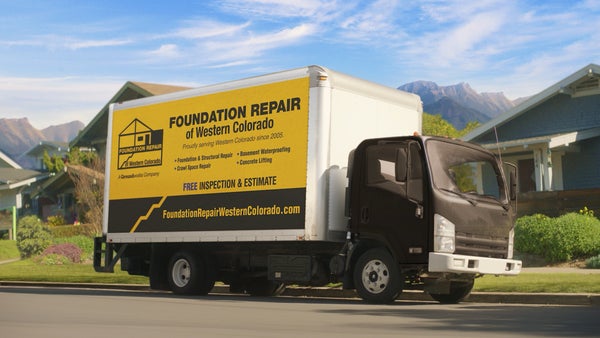 Ignoring the repair of deteriorating and bowed basement walls can be perilous. Don't delay and worsen the problem. Act now to safeguard your home and minimize future repair expenditures.
Entrust your home to Foundation Repair of Western Colorado's expert hands. Our IntelliBrace™ Wall Restoration Solution is the definitive remedy for your basement wall issues. Contact us today for a free, no-commitment inspection and secure your home's future.
IntelliBrace™ Wall Repair FAQs
Yearly adjustments are generally adequate, depending on the wall's condition. This service is best performed by Foundation Repair of Western Colorado's dedicated technicians.  
While the beams protrude from the walls, they cause minimal disruption. Although visible, their existence ensures your home's safety and can be concealed during basement renovation. 
Installation time can differ, but the majority of projects are completed within a single day. For a more exact time estimate, consult our experts!