Wall Shearing in Basements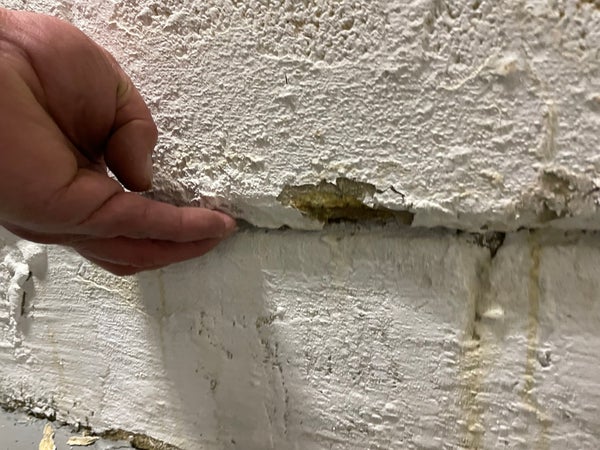 If the wall in your basement looks like it's about to fall over, there's a serious problem. We call this "wall shearing". As you can see in the image, it looks unsettling—and it shouldn't be ignored. 
Ignoring this problem could compromise the structural integrity of your basement and lead to water infiltration. The good news is, Foundation Repair of Western Colorado has multiple solutions available for addressing this issue and reinforcing your basement walls.
Let's look at the details surrounding wall shearing so you're equipped to make informed decisions if you see this issue in your basement.
What Exactly Is Wall Shearing?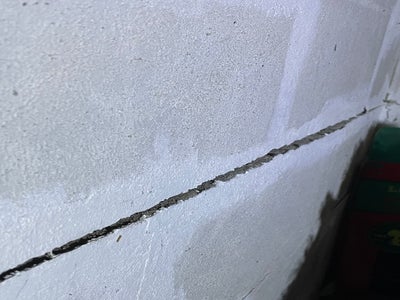 Wall shearing often shows up as a lateral shift near the base of a basement wall, mainly resulting from a pressure exerted onto it. Factors like soil composition, groundwater levels, and earth movements generally cause this pressure. 
While wall shearing itself may not initially signify foundation issues, neglecting it can eventually lead to serious foundation problems. Timely intervention helps you avert severe issues like water intrusion or widespread structural damage.
Why Does Wall Shearing Occur? 
Wall shearing is caused by multiple factors. During our comprehensive home inspection, our specialists help identify and clarify the root causes affecting your home.
This helps you better grasp the conditions affecting your home. Here are the most common issues our team encounters in the field:
Soil Movement 
Changing moisture levels weaken the soil surrounding your basement, reducing its ability to support your basement walls, and eventually leading to wall shearing.
In Colorado, water buildup (from rain or snow) often causes our regional soils to swell up and put pressure on your basement walls. On the other hand, during dry spells, soil dries out and shrinks. This leads to gaps that leave your wall poorly supported.
Hydrostatic Pressure 
The pressure exerted by groundwater, especially after substantial rainfall, puts stress on your basement walls. Over time, this sets the stage for wall shearing. This growing force is called hydrostatic pressure.
If your home is built on a slope or lacks proper drainage, it's more likely that hydrostatic pressure will affect your home. Continuous exposure to hydrostatic pressure destabilizes your basement walls, requiring prompt repair actions.
Thermal Expansion 
Fluctuating temperatures may cause the materials used in your basement walls to expand and contract. This makes the wall susceptible to movement over time.
Materials like concrete and brick are particularly prone to these thermal shifts, and the damage caused by these shifts become entry points for water (which only makes wall shearing develop quicker).
Is Wall Shearing Fixable?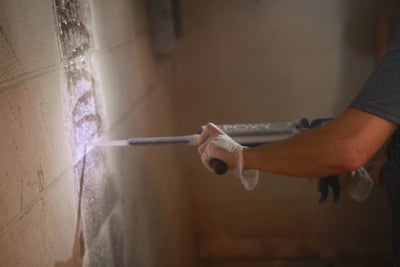 Absolutely! With modern foundation repair technology, we can target specific problem areas without the need for a complete basement renovation. 
At Foundation Repair of Western Colorado, we use a variety of state-of-the-art methods to halt wall shearing and ensure a stable, dry basement for years to come.
Our Strategy for Repairing Wall Shearing 
We've earned the trust of numerous Colorado homeowners through our thorough inspection and repair procedures. Here's how we tackle wall shearing:
1. Detailed Inspection 
One of our trained specialists will visit your home to thoroughly inspect any signs of wall shearing in your basement. They will also evaluate your home's soil condition and overall foundation health. This process allows us to pinpoint whether soil issues, water pressure, or thermal fluctuations are to blame.
2. Repair Methods 
We use industry-leading wall reinforcement tools erasures to fortify weak walls and prevent future movement. Our options include: 
Each of our wall reinforcement systems is designed to hold massive amounts of weight. We guarantee that our solutions provide long-term stabilization for your walls.
3. Moisture Management Solutions 
Given that wall shearing often arises from moisture issues, we also suggest incorporating basement waterproofing systems. Moreover, water can infiltrate your basement due to wall shearing, making moisture management crucial.
We offer an internal drainage system, industrial-grade dehumidifier, basement wall vapor barriers, and more to control water entry and relieve foundation stress.
Why Act on Wall Shearing Now? 
Putting off repairs could result in escalating issues and higher repair expenses in the future. Prompt action provides:
Protection against additional structural deterioration
Reduced risk of water seepage and mold growth
Minimized chances of floor imbalances and weakened supports
Cost-efficiency by averting extensive damage
By choosing Foundation Repair of Western Colorado, you're investing in a thorough, customized approach that not only resolves the current problem but also protects your basement from future issues.
Contact Foundation Repair of Western Colorado for Your Wall Shearing Solutions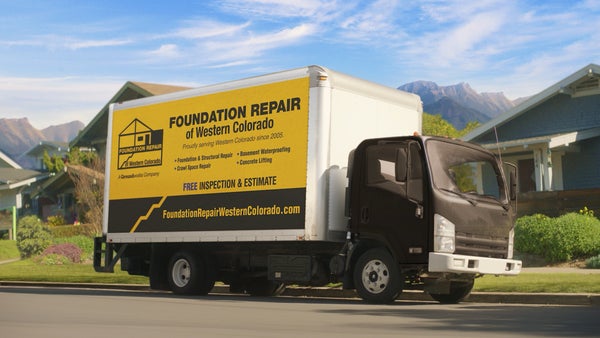 If you notice signs of wall shearing in your basement, being proactive is the name of the game. Don't let a small issue turn into a huge liability. 
At Foundation Repair of Western Colorado, we employ industry-leading techniques to tackle wall shearing at its root. This ensures that the issue is fully resolved and that your basement walls stay secure for the long haul.
We offer free, in-depth basement inspections. Contact us today to schedule yours!
Choose lasting quality over quick fixes—fix your basement problems with Colorado's trusted experts at Foundation Repair of Western Colorado.
Publish Date:
Last Modified Date:
Explore more problem signs