Basement Wall Vapor Barrier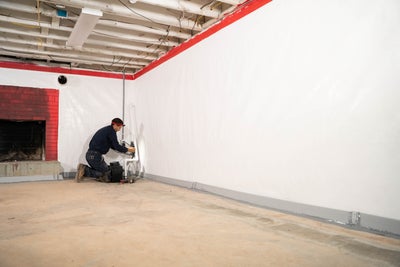 Having a wet and mold-infested basement was never the intention when you became a homeowner. Unfortunately, it's a common issue in Western Colorado, threatening not only your health but also the integrity of your home. However, a solution is at hand.
Leveraging vapor barriers, in conjunction with other damp-proofing techniques, ensures a dry basement. Foundation Repair of Western Colorado is your neighborhood specialist in basement waterproofing, proposing one of the top vapor barriers available to meet your demands.
This page will illuminate how installing WallSeal™ basement wall vapor barrier will fortify your home and provide you with an understanding of the next best steps to take!
What is the Foundation Repair WallSeal™ Vapor Barrier?
WallSeal™ Vapor Barrier boasts a premium 12-mil thickness, crafted to barricade moisture from infiltrating your basement walls.
It is securely adhered to the wall, directing any entrapped water into our BasementGutter™ interior drainage system. This not only prevents basement walls from becoming damp but also eliminates moisture that could lead to further complications.
Combining our vapor barrier with other damp-proofing techniques, like sump pumps and dehumidifiers, ensures a holistic strategy to safeguard your home and elevate your property's worth.
Signs You Need a Basement Wall Vapor Barrier
Discerning the necessity for a vapor barrier is simple—look for indicators of water impairment. Here are some common basement moisture issues:
Musty odors
Mold and mildew
High humidity levels
It's best to act quickly at the first sign of these issues. Procrastinating could result in significant structural harm and even potential health risks like poor air quality. Seek advice from a local expert like Foundation Repair of Western Colorado even if the signs appear minor.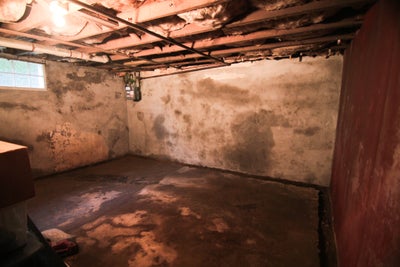 Is a Basement Wall Vapor Barrier Necessary?
Indeed, fitting a vapor barrier stands as a pivotal element in a complete basement waterproofing strategy.
Even without evident cracks or leakage signs on your basement walls, moisture build-up is perpetually possible due to the porous nature of concrete. Water follows the easiest route, so preemptively handling moisture problems with a vapor barrier ensures a more robust basement.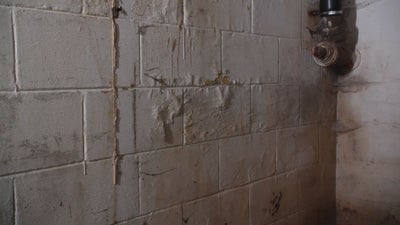 What Are the Benefits of the Foundation Repair WallSeal™ Vapor Barrier?
This robust vapor barrier furnishes numerous benefits, which include:
Resilient Defense: Formed from top-grade materials to ensure dependable, lasting protection.
Enhanced Living Conditions: Lowers humidity and prevents mold growth, facilitating a healthier home environment.
Diminished Odors: Mitigates moisture and vapor, reducing musty smells. A vapor barrier, in conjunction with a dehumidifier, assures a cleaner basement overall.
Preserve Your Possessions: Besides precluding flooding, it also shields stored items and averts warping of wood. WallSeal™ maintains a controlled environment, safeguarding any personal possessions.
Boosted Property Value: A dry basement helps maintain property value and assists in saving on repair costs in the future.
Flawless installation is crucial, and our accredited experts utilize exclusive methods to assure the best results.
How the WallSeal™ Vapor Barrier Works
Once a Foundation Repair specialist decides the WallSeal™ Vapor Barrier is necessary, it is combined with our other damp-proofing solutions.
The method includes:
Cleaning walls beforehand.
Sturdily attaching the WallSeal™ sheets to thw basement walls.
Implementing an interior drainage system to divert water from the basement.
Positioning a sump pump at the basement's lowest point.
Linking interior drainage to the sump pump.
Installing an energy-efficient dehumidifier for extra protection against mold and humidity.
A cohesive system like this guarantees effective moisture management.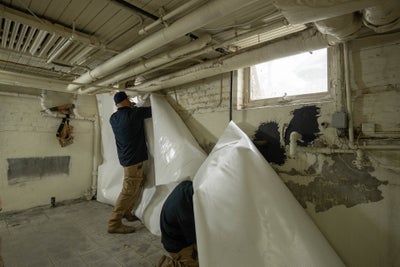 Why Our Basement Wall Vapor Barrier is the Best Choice for Your Home
The WallSeal™ Vapor Barrier stands out as one of the finest vapor barriers in the region, underscored by multiple benefits like:
An elite 12-mil thick material for optimal moisture barricading.
Water and mold control.
Constant adherence to walls, ensuring perpetual protection from seepage.
Effortless integration with our full damp-proofing system.
Wide-ranging warranty protection.
Typical barriers from standard retailers often underperform and fail to tackle the fundamental problem of basement dampness. WallSeal™ is our team's distinct vapor barrier, assured to perform more effectively and efficiently than generic alternatives!
Contact Foundation Repair of Western Colorado for Basement Wall Vapor Barrier Solutions Today!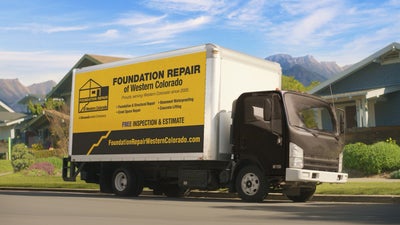 Don't settle for a wet, muggy basement. Revitalize your home with Foundation Repair of Western Colorado's exhaustive basement waterproofing solutions. Reach out now for a complimentary, no-commitment assessment and quotation.
For over two decades, we've been aiding homeowners across Western Colorado, providing unparalleled customer support and exclusive offerings. Depend on us to enhance the health of your home and your tranquility.
Publish Date:
Last Modified Date: