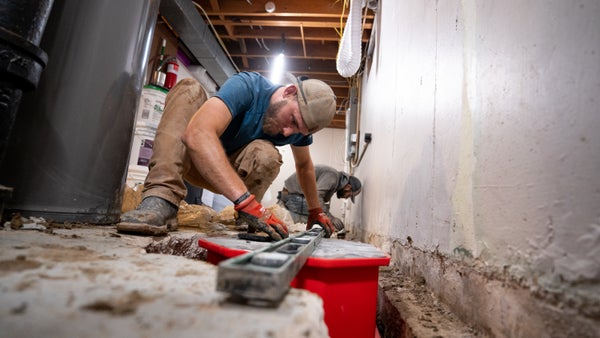 You've noticed water damage in your basement, and it isn't something you can handle on your own. You need a professional, but do you call a general contractor or a basement repair company?
At first glance, it might not seem like there's a difference between the two. However, homeowners should be aware of how working with either one could impact the entire repair. One isn't necessarily better than the other—the difference lies in the scope of the work and the logistics of the project. Let's dig in to each so you can make a more informed choice for your basement repair needs.
General Contractor vs Wet Basement Repair Company
When you have a basement project, you might wonder who you should call for help. Should you choose a general contractor, who does all kinds of home services, or a basement repair company, who mainly works on basements? Let's look at the differences.
Pros and Cons: Working With a General Contractor
General contractors are often "jacks of all trades". They can fix many problems around your house, including a leaky basement. However, they might not have a special focus on basements; instead, having a broad knowledge of how to solve basement problems.
Sometimes, general contractors don't hold the same licenses or insurance as professional contractors. That means general contractors only work on certain kinds of repairs, and most likely not the really complicated ones. Something to keep in mind is that general contractors might use a mix of workers, and they might not always be there full time.
This could be a problem for larger repair jobs because general contractors might not have enough workers for a big project. Also, once they finish a job, general contractors usually move on. There usually isn't much in the way of annual maintenance plans or warranties.
One more thing: general contractors can be hard to get hold of because they often work on many projects at once. If you hire them, your project might take longer. A basement repair company usually handles one project at a time, so your job will likely be finished on time.
Pros and Cons: Working With a Basement Repair Company
A basement repair company, on the other hand, usually works only on basements. They might do things like basement finishing, renovation, or waterproofing and repair. Basement repair companies are licensed and insured. This means they can take on jobs that need special permits or need to follow certain building rules.
When it comes to who they hire, basement repair companies usually have a team of skilled workers who know a lot about basements. If you have a big project that needs a lot of work, a basement repair company might be a better choice. They have more workers and a manager who will watch over your project from start to end.
Basement repair companies also often build long-term relationships with their customers, usually offering long-term maintenance. After they finish a job, they will keep taking care of your basement to make sure it stays clean and dry.
Who Should I Contact?
If you want to make your home safer and more practical, think carefully about who to hire. We can't make the decision for you, but based on the factors we just discussed, you might have a better idea of which type of professional will work for your basement needs.

To sum it all up, general contractors may fit your needs if the project is small scale. But a basement repair company is better suited for major repair project. Our professional team knows a lot about basements, and we suggest working with a basement repair company because it's generally safer, more efficient, and comes with a lasting relationship.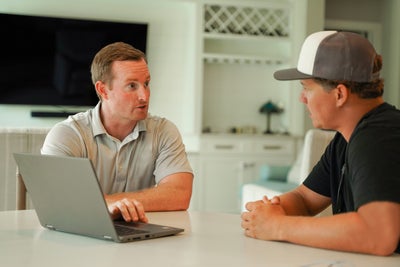 Tips for Hiring a Repair Company
Now that you know what sets these two apart, it's good to also know what to look for when hiring someone to repair your basement. The reality is that every contractor and company is different. It's always best to visit their websites or talk to an associate directly to learn more details about the company. As a rule of thumb, these are the best things to look out for include:
Licensing and insurance – Ensure they have a valid state license and insurance that indemnifies you from personal injury or damage.
Labor warranty – Ensure the repair company or contractor backs every project with a labor warranty. If the basement falls apart, you won't suffer financial loss as well.
Proximity – A local wet basement repair company understands the problems of residential homeowners, and since they're nearby, they can respond in a timely fashion to your inspection or repair requests.
Customer reviews – Check the company's website or local directories for customers' feedback.
Written contract – When hiring, ensure you get a written contract that spells out what the repair company will do, timelines, projected cost and who's in charge of the project.
Consider Working With Foundation Repair of Western Colorado
Ultimately, the choice between a general contractor and a basement repair company is up to you. As company that specializes in basement repair, we can promise one thing: our solutions are built to last. We have industry-leading basement waterproofing solutions including wall anchors, dehumidifiers, sump pumps, and perimeter drains. If you're dealing with major basement flooding or bowing basement walls, we can fix it.
We also provide annual maintenance and financing plans for our services. That way, you can make sure your basement stays dry and protected in whatever way works best for you. We understand that the decision between general contractors and basement repair companies isn't straightforward.
With the considerations from this article in mind, hopefully the decision becomes a little easier. If you're looking for a trustworthy and professional basement repair company in Grand Junction and Western Colorado, get in touch with us today. We're happy to conduct a free basement inspection and offer a written estimate along with recommendations to fix your basement issues or problems.